An Orthogonal Universe Blog updates regularly on Friday, in my mind, and on other days whenever I feel like it.
Welcome to An Orthogonal Universe Blog
Combining Storytelling, Art, and Mathematics since 2013!
An Orthogonal Universe Blog is a blog about the combinations of storytelling, art, and mathematics. Since May 2013, the blog updates regularly on Friday. Special features may update on the off-days.
Have a suggestion for a topic? Feel free to submit your request.
About the Author
Robert Loyd Watson's current incarnation began on 9 April, 1983 in Fort Worth, Texas, USA. During his stint as a daffodil in 1653, he had pondered a proof for Fermat's Little Theorem (daffodils, as we all should know, have ample time to themselves for thinking). Unfortunately, he was snipped before he could complete his work. During his next incarnation he was successful in proving the theorem. But alas! No reputable mathematics journals would accept manuscripts from basset hounds. Even to this day it is true. He is still bitter about it.
Today Robert is a Mathematics professor who enjoys crafting mathematical fantasies in his spare time. He lives in North Carolina with his wife, Elizabeth, and cats Milton, Spenser, and Euclid.
Contact:
Email: merrak [at] gmail [dot] com
Blog Mascots
Ry the Squirrel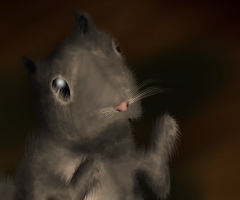 Ry the Squirrel is in charge of the subscriptions department. He is responsible for delivering messages from the blog. Maybe you would like to receive his notices in your inbox? If you enjoy this blog, consider subscribing!
Ry the Squirrel is a character in the sequel to A Foundation in Wisdom.
All Posts